Laminate Flooring Toronto
Laminate flooring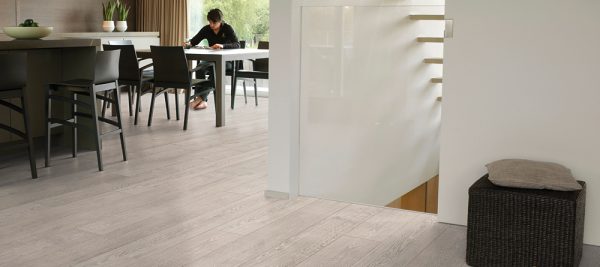 Laminate flooring has been around for quite some time now and has filled a void in the flooring market for people looking for something cheap and cheerful to put down.  An alternative to hardwood flooring, carpet or tile, laminate flooring can offer a variety of looks and styles.  It is almost exclusively offered in a click, floating floor platform which allows it to be installed anywhere.  Particularly in the last decade laminate has evolved in looks and realism.  The clicking mechanisms have become more sophisticated, the depth of colours more diverse and the texture of the surfaces more realistic and consequently the pricing has reflected that amongst certain brands of laminate. The new look vinyl flooring, however, has really put the pressure on laminate flooring due to characteristics that can make the vinyl a more superior choice in certain cases (waterproof, stable etc.) but laminate still has it supporters and is always worth considering when looking for lower priced flooring options that are both light on maintenance and good from a durability stand point.
Our professional staff at Invision, Hardwood & Décor Inc.  will spend the time to show and educate you on all these important and subtle differences when it comes to laminate flooring – not every style is a fit – your personal taste along with your lifestyle will influence the direction we guide you in.  No matter where you are in Toronto, Vaughan or anywhere else in the GTA we will be there to provide the best service and expertise.
Call us today to book an appointment at our showroom at 905-669-8300.
Laminate Flooring Gallery